Hire a campervan in Sweden today
Hire a campervan in Sweden today
Campervan Play
Embark on an intimate journey through Sweden's breathtaking landscapes with the Campervan Play, a budget-friendly option for couples or pairs of explorers. Discover freedom on four wheels!

Price per day from:1190 SEK
Low Season!

Save -35%
Reserve
Campervan Urban
Sweden has one of the best road networks in the world, making it an ideal destination to discover in a camper rental! Our Campervan Urban is all about discovering The Land of the Midnight Sun's most beautiful cities and enjoying every second of your road trip across its virgin natural landscapes from day one!
Price per day from:2,303 SEK
Low Season!

Save -45%
Reserve
Campervan Fun
Meet the Campervan Fun, the versatile traveler's dream for small families or trios venturing into Sweden's natural wonders. Spacious yet economical, this campervan is very reliable and bigger than you'd expect for the price!

Price per day from:1490 SEK
Low Season!

Save -35%
Reserve
Campervan Viking
Venture forth on a journey like no other through Sweden's vast horizons with the Campervan Viking, an unmatchable blend of space and comfort perfect for two adults (+1 child) and duos. Tackle any paved or smooth gravel trail with ease and hit the road!

Price per day from:1790 SEK
Low Season!

Save -35%
Reserve
Motorhome Cute
Discover Sweden's urban charm with the Motorhome Cute, where compact size meets grand adventure. This easy-to-maneuver RV is perfect for couples or friends looking to lose themselves on the road and discover Sweden's most spectacular cities!

Price per day from:2159 SEK
Low Season!

Save -44%
Reserve
Motorhome Cozy
Navigate Sweden's scenic wonders with the Motorhome Cozy, a compact RV designed for two. Whether you're traveling with your partner, a friend or a family member, this easy-to-drive house-on-wheels makes every narrow road an intimate journey, melding modern amenities with the coziness of home.

Price per day from:2784 SEK
Low Season!

Save -65%
Reserve
Motorhome Comfy
Experience the comfort of home as you make the most out of your holiday in this RV rental in Sweden. Its ample sleeping quarters and fully-fitted kitchen ensure you dine comfortably, rest peacefully, and journey smoothly across The Land of the Midnight Sun.

Price per day from:2,800 SEK
Low Season!

Save -35%
Reserve
Motorhome Homey
Who said traveling and sleeping in a motorhome lacked luxury? Turn Viking heads and make the tall pines bow as you glide down every road in this roomy, elegant, and fully-appointed RV rental in Sweden!

Price per day from:3,144 SEK
Low Season!

Save -40%
Reserve
Motorhome Family
Looking for an RV rental in Sweden with unmatched comfort, peak performance and premier living quarters? You've found it! This motorhome is ideal for big groups eager to discover this Nordic gem, ride a moose (not really!), go dog-sledding, or any other adventure your heart desires!

Price per day from:3,291 SEK
Low Season!

Save -50%
Reserve
Check out our helpful blog of Sweden travel articles:
SEE ALL POSTS
Let's go on an adventure!
Unbeatable prices. Premium customer service.
BOOK NOW
Why Hire a Campervan with Campervan Sweden?
Since marking our presence in 2013, we've set the benchmark in the rental sector. Our collaborations with the region's most reputable local firms ensure that your camper rental experience is second to none. For those in pursuit of a stellar campervan experience in Sweden, Campervan Sweden is your definitive choice.
Recognizing the value of cost-effective choices, we prioritize offering competitive rates without compromising the excellence of our service. We handpick our vehicles to offer you the most in-demand and acclaimed models available today.
Exceptional customer support is at the heart of Campervan Sweden's ethos. Always on hand, our amiable team stands ready 24/7 to address any inquiries or provide guidance, making your adventure both relaxing and memorable.
Every campervan in our fleet is meticulously chosen to provide optimum comfort and practicality throughout your adventure. Equipped with amenities like a kitchenette, bedding, and essential camping tools, they cater to individual travelers and families alike.
So, be it a lone escapade or a treasured family outing, trust our campervans to be your snug sanctuary, guiding you through Sweden's awe-inspiring vistas and its rich cultural tapestry.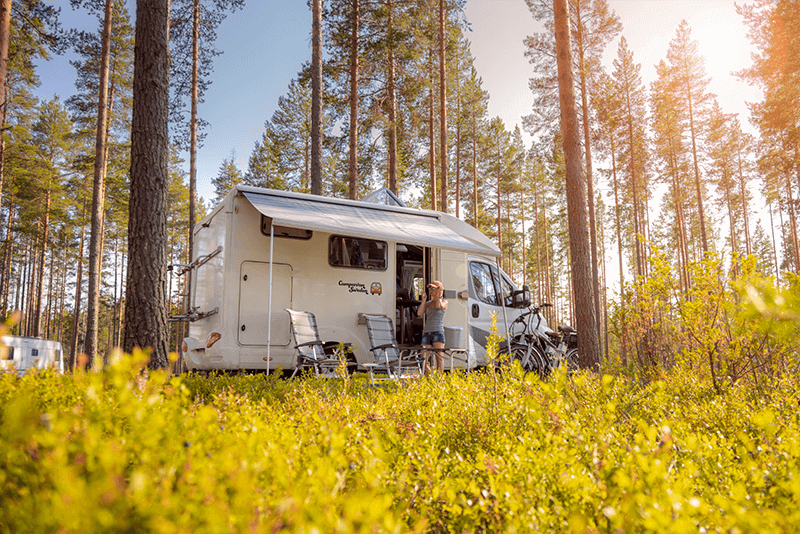 Experience Sweden in the Comfort of a Campervan
Renting a campervan in Sweden is the epitome of unhindered exploration. The land of the Midnight Sun, affectionately termed 'Sverige' by its inhabitants, beckons every campervan traveler with its diverse beauty. From the tranquil beauty of its countless lakes to the rugged vastness of Lapland, from vibrant cities echoing history to serene archipelagos, a campervan grants you the autonomy to set your own pace. Pause to admire, stay to understand, and drive to discover, immersing yourself in Sweden's rich tapestry.
Our campervans are a harmonious blend of homely comforts and modern amenities, tailored for an unforgettable Swedish sojourn. The open road of Sweden awaits; all you need to do is book your campervan. Embark on this captivating journey and embrace the heart of Sweden in true comfort. Välkommen to a traveler's dream!
Discover Sweden's Hidden Gems with a Campervan
Traveling in a campervan opens the door to experiencing Sweden's delightful cities and towns in a unique way. Start with Stockholm, the "Venice of the North," where your campervan becomes the perfect base to explore its myriad of islands and rich history. In Gothenburg, the "Rainbow City," you can park your campervan and wander through its lively Feskekôrka fish market or unwind in its charming canal settings.
Make your way to Malmö, the "Bridge City," and let your campervan rest by its modern harbor, giving you the chance to uncover its blend of contemporary and historic architecture. Venture north to Kiruna, inside the Arctic Circle, where your campervan provides a cozy retreat after days of chasing the Northern Lights or delving into the indigenous Sami culture. This campervan journey ensures Sweden reveals itself in all its multifaceted glory.
Frequently Asked Questions
Yes, you can! We offer flexible pick-up and drop-off options for your convenience.
Yes, all our campervans come fully equipped with bedding and kitchen equipment to make your journey comfortable.
Yes, as long as it's a full license appropriate for the class of vehicle and in English. International Driving Permits are accepted too. The driver needs to be a minimum of 21 years old with at least one year of driving experience.
Yes, the minimum rental period is typically 7 days, but this can vary depending on the season. Please contact us to confirm the minimum rental period before your trip.
Absolutely! We provide 24/7 roadside assistance for peace of mind during your travels.
Regrettably, we do not allow pets in our campervans to ensure the comfort of all our customers.
At present, we only offer manual vehicles, although we are constantly working to expand our fleet.
Absolutely! You can rent our vehicles if you are 21 and have held your license for at least 12 months.
Yes, each city offers a variety of well-equipped camping grounds where you can park your campervan.
Location & timetable
Booking Office Hours (telephone & email)
| Weekdays | Hours |
| --- | --- |
| Monday | Open 24 hours |
| Tuesday | Open 24 hours |
| Wednesday | Open 24 hours |
| Thursday | Open 24 hours |
| Friday | Open 24 hours |
| Saturday | Open 24 hours |
| Sunday | Open 24 hours |