Stockholm, the vibrant capital of Sweden, offers a wealth of experiences and attractions that will leave you captivated. Whether you're a history buff, an art enthusiast, a food lover, or an outdoor adventurer, Stockholm has something to offer for everyone.
In this article, we'll take you on a journey through the best things to do in Stockholm, highlighting its top attractions, unique experiences, and hidden gems. Get ready to immerse yourself in the beauty and charm of this remarkable city.
Gamla Stan: Explore Stockholm's Old Town
Step into the historic heart of Stockholm as you explore the narrow cobblestone streets, colorful buildings, and charming squares of Gamla Stan. Lose yourself in the medieval atmosphere, visit the majestic Stockholm Cathedral, and browse through the unique boutiques and artisan shops.
Enjoy a cup of coffee at one of the cozy cafés, or savor traditional Swedish cuisine in one of the best restaurants in Stockholm. Gamla Stan offers a glimpse into Stockholm's rich history and is definitely one of the best things to do in Stockholm.
Vasa Museum: Marvel at an Ancient Ship
Witness the incredible Vasa ship, a 17th-century warship that sank on its maiden voyage and was salvaged centuries later. Marvel at its intricate carvings and learn about its ill-fated journey. The Vasa Museum is one of Stockholm's top attractions and a must-visit for history enthusiasts.
View this post on Instagram
Skansen: Step into Sweden's Past
Experience a living open-air museum at Skansen, where history comes to life. Explore the charming old buildings, encounter traditional Swedish craftspeople, and interact with native Nordic animals. Skansen offers a unique opportunity to immerse yourself in Sweden's past and is a fun thing to do in Stockholm.
View this post on Instagram
ABBA: The Museum: Dance to the Rhythm of Swedish Pop
Immerse yourself in the world of ABBA, one of Sweden's most iconic musical groups, at the ABBA: The Museum. Dance along to their greatest hits, admire their costumes, and even join a virtual stage performance. ABBA: The Museum is a fun and interactive experience for music lovers visiting Stockholm.
View this post on Instagram
Djurgården: Discover a Green Oasis in the City
Escape the hustle and bustle of the city and unwind in Djurgården, a tranquil island oasis with vast green spaces and stunning waterfront views. Enjoy a leisurely walk or bike ride through the lush Djurgården Park, visit the historical buildings, or have a picnic in the beautiful gardens. Djurgården is the perfect place to relax and enjoy nature, and it's one of the top things to do in Stockholm.
Royal Palace: Witness Swedish Royalty
Marvel at the grandeur of the Royal Palace, the official residence of the Swedish royal family. Take a guided tour to explore the opulent Royal Apartments, admire the stunning Royal Chapel, and witness the fascinating Changing of the Guard ceremony. The Royal Palace provides a glimpse into the regal history of Sweden and is among the best things to do in Stockholm.
Fotografiska: Indulge in Art and Photography
Delve into the world of contemporary photography at Fotografiska, one of the world's largest photography museums. Explore captivating exhibitions featuring renowned international artists, attend workshops and lectures, and enjoy panoramic views of Stockholm from the museum's top-floor café. Fotografiska offers a unique blend of art, photography, and breathtaking city views.
View this post on Instagram
Moderna Museet: Immerse Yourself in Contemporary Art
For those who'd love artsy things to do in Stockholm, dare to discover the vibrant world of modern and contemporary art at Moderna Museet. View works by renowned artists such as Picasso, Dalí, and Warhol, and explore thought-provoking exhibitions that push the boundaries of artistic expression.
Moderna Museet showcases the best of Swedish and international contemporary art, making it a must-visit attraction in Stockholm.
View this post on Instagram
Stockholm Archipelago: Cruise through Island Paradise
Embark on a scenic boat tour and explore the breathtaking Stockholm Archipelago, one of the most famous islands in Sweden. It consists of over 30,000 islands, islets, and rocks. Marvel at the picturesque landscapes, swim in crystal-clear waters, and enjoy a picnic on a secluded island. The Stockholm Archipelago offers a tranquil escape and is a top thing to do for nature lovers visiting Stockholm.
Drottningholm Palace: Experience Regal Splendor
Experience the regal splendor of Drottningholm Palace, a UNESCO World Heritage Site and the private residence of the Swedish royal family. Explore the beautiful palace gardens, admire the elegant interiors, and witness a performance at the Drottningholm Palace Theatre, the oldest preserved theater in Europe. Drottningholm Palace offers a royal experience and is among the top things to do in Stockholm.
Nordic Museum: Dive into Nordic Culture
Immerse yourself in the rich cultural heritage of Sweden and the Nordic region at the Nordic Museum. Discover traditional costumes, explore exhibitions on Swedish folklore and customs, and learn about the history and culture of the Sami people. The Nordic Museum provides a comprehensive view of Nordic traditions and culture, making it a must-visit attraction in Stockholm.
View this post on Instagram
Södermalm: Explore the Hip and Trendy District
Venture into Södermalm, a hip and trendy district known for its vibrant atmosphere, vintage boutiques, and lively nightlife. Browse through unique shops, sip coffee at trendy cafés, and soak up the artistic ambiance. Södermalm is a vibrant neighborhood that offers a mix of history, culture, and contemporary urban life in Stockholm.
Monteliusvägen: Admire Panoramic Views
Among the best activities in Stockholm, you can take a leisurely walk along Monteliusvägen, a scenic promenade offering breathtaking panoramic views of Stockholm's historic skyline. Stroll along the path lined with charming wooden houses and enjoy the stunning vistas of the city, including the spires of Gamla Stan and the shimmering waters of Lake Mälaren. Monteliusvägen is a hidden gem and one of the best spots to capture memorable photographs of Stockholm.
Gröna Lund: Have Fun at Stockholm's Oldest Amusement Park
Indulge your inner thrill-seeker at Gröna Lund, Stockholm's oldest amusement park. Feel the adrenaline rush on exhilarating roller coasters, enjoy classic carnival games, and catch live concerts by renowned artists. With its lively atmosphere and a variety of attractions for all ages, Gröna Lund guarantees a day filled with fun and excitement.
The Royal Opera: Enjoy World-Class Performances
Looking for a more tranquil thing to do in Stockholm? Well, immerse yourself in the world of opera and ballet at the Royal Opera, a prestigious institution renowned for its exceptional performances.
Attend a captivating opera or ballet production in the opulent setting of the Royal Opera House and experience the magic of live performances by talented artists from around the world. The Royal Opera offers a truly enchanting evening in Stockholm.
View this post on Instagram
Stockholm City Hall: Marvel at Architectural Grandeur
Marvel at the architectural splendor of Stockholm City Hall, one of the city's most iconic landmarks. Take a guided tour to explore the beautiful halls, including the Blue Hall and the Golden Hall, adorned with magnificent mosaics.
Don't miss the opportunity to climb the City Hall Tower for panoramic views of Stockholm's skyline. Stockholm City Hall is a testament to Swedish craftsmanship and a must-see attraction in Stockholm!
Junibacken: Delight in Astrid Lindgren's World
Step into the magical world of Astrid Lindgren's beloved characters at Junibacken. Explore interactive exhibitions, ride the Story Train through Pippi Longstocking's Villa Villekulla, and immerse yourself in the enchanting stories of Swedish children's literature.
For those traveling with kids, this is definitely among the top things to do in Stockholm! Junibacken is a delightful place for families and fans of Astrid Lindgren's timeless tales.
View this post on Instagram
Royal Djurgården: Embark on Outdoor Adventures
Embark on outdoor adventures in Royal Djurgården, a vast green parkland offering a wide range of activities. Rent a bike and explore the scenic trails, go for a leisurely boat ride, or have a picnic in the tranquil surroundings. Royal Djurgården is a perfect retreat for nature lovers and outdoor enthusiasts seeking relaxation or active pursuits in Stockholm.
Stockholm Metro Art: Discover Art Underground
Experience the unique art installations in Stockholm's metro system, often referred to as the "world's longest art gallery." As you travel through the metro, you'll encounter captivating artworks by various artists, turning your daily commute into an artistic journey.
Discover the diverse range of sculptures, paintings, and installations that adorn the metro stations, adding beauty and creativity to the urban landscape of Stockholm.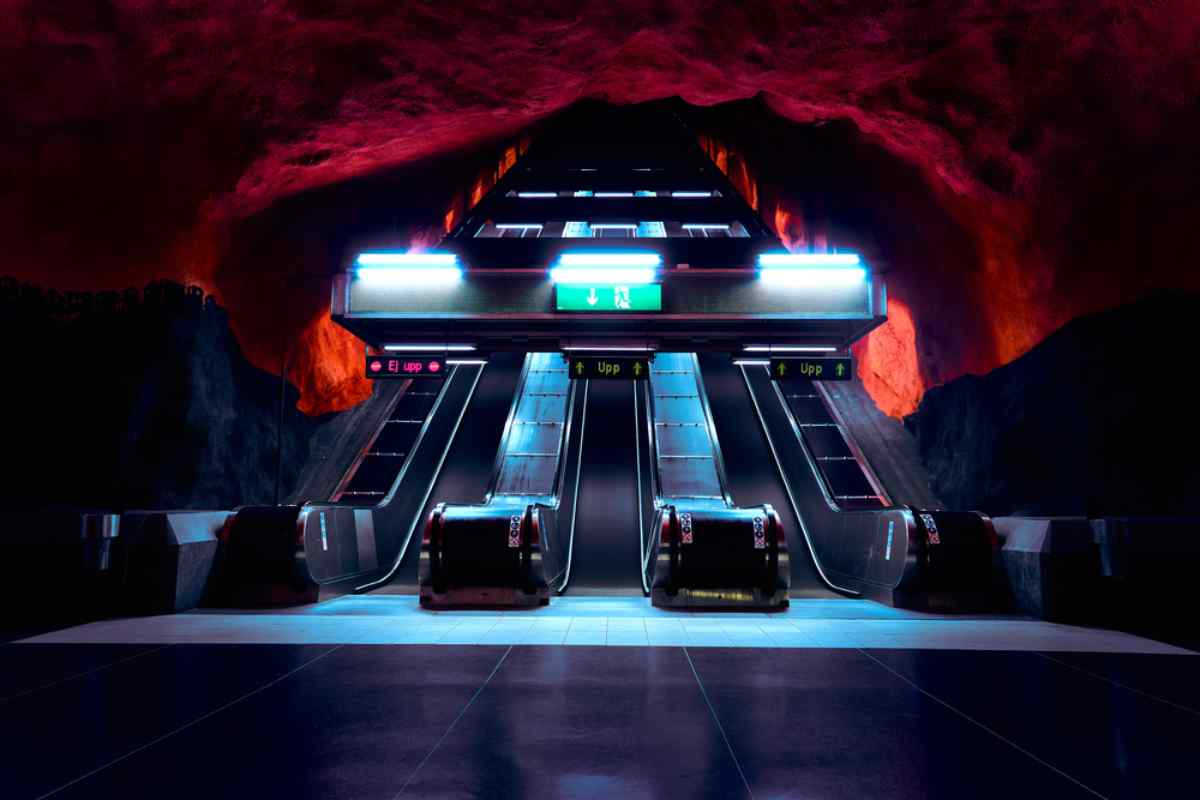 Vaxholm: Escape to the Picturesque Archipelago
Looking for things to do in Stockholm that are more related to nature? Well, escape the bustling city and venture to Vaxholm, a picturesque island in the Stockholm Archipelago. Explore the charming town, stroll along the waterfront promenade, and visit Vaxholm Fortress, a historic landmark dating back to the 16th century.
Enjoy the idyllic atmosphere, savor local cuisine, and breathe in the fresh sea air. Vaxholm offers a peaceful retreat and a glimpse into the enchanting beauty of the Stockholm Archipelago.
Gustav III's Pavilion: Step into an 18th-Century Retreat
Visit Gustav III's Pavilion, an exquisite royal retreat located in Haga Park. Admire the neoclassical architecture, stroll through the beautifully landscaped gardens, and immerse yourself in the serene ambiance of this 18th-century oasis. Gustav III's Pavilion is a hidden gem that provides a tranquil escape from the urban hustle and bustle of Stockholm.
View this post on Instagram
Strandvägen: Stroll Along the Iconic Boulevard
Take a leisurely stroll along Strandvägen, Stockholm's iconic boulevard. Marvel at the elegant architecture, lined with grand buildings and upscale shops. Indulge in some retail therapy, enjoy a meal at one of the waterfront restaurants, or simply relax by the harbor and watch the boats go by. Strandvägen epitomizes the sophisticated charm of Stockholm and is a must-visit destination for visitors.
The Royal Dramatic Theatre: Experience Swedish Theater
Our list of things to do in Stockholm wouldn't be complete without some theater! Immerse yourself in the world of Swedish theater at the Royal Dramatic Theatre. Attend a captivating play or performance by acclaimed actors and experience the art of Swedish drama at its finest.
View this post on Instagram
The Royal Dramatic Theatre, known as Dramaten, has a long-standing reputation for its outstanding productions and is a cultural gem in the heart of Stockholm.
Rosendals Trädgård: Relax in a Beautiful Garden
Escape the bustling city and find tranquility in Rosendals Trädgård, a stunning garden oasis on Djurgården island. Take a leisurely stroll through the lush gardens, enjoy the vibrant colors and scents of blooming flowers, and savor a cup of coffee in the charming café. Rosendals Trädgård offers a peaceful respite where you can reconnect with nature and rejuvenate your senses.
View this post on Instagram
Nationalmuseum: Appreciate Swedish Art and Design
Discover the rich artistic heritage of Sweden at the Nationalmuseum. Admire a vast collection of Swedish art, including works by renowned painters such as Carl Larsson and Anders Zorn.
Explore the museum's galleries dedicated to decorative arts, design, and applied arts. The Nationalmuseum provides a comprehensive overview of Swedish artistic expression throughout history. If you love art, this is definitely a top thing to do while in Stockholm!
View this post on Instagram
Östermalmshallen: Indulge in Gastronomic Delights
Delight your taste buds at Östermalmshallen, a vibrant food hall offering a wide array of gourmet delicacies. Sample artisanal cheeses, indulge in fresh seafood, and savor the flavors of Swedish cuisine. From traditional dishes to international specialties, Östermalmshallen is a haven for food enthusiasts and a must-visit destination for gastronomic delights.
View this post on Instagram
Söderhallarna: Explore a Vibrant Food Market
Immerse yourself in the vibrant atmosphere of Söderhallarna, a bustling food market in the Södermalm district. Browse through the stalls offering a diverse range of culinary delights, from fresh produce to international street food. Experience the vibrant energy, taste unique flavors, and enjoy the lively ambiance of this food market in Stockholm.
View this post on Instagram
Stockholm Canals: Take a Charming Boat Tour
Embark on a charming boat tour and explore Stockholm's picturesque canals. Cruise along the serene waterways, passing under charming bridges and admiring the waterfront architecture.
Learn about the city's history and landmarks as you glide through the canals. A boat tour offers a relaxing and scenic way to discover the beauty of Stockholm from a different perspective.
Storkyrkan: Visit Stockholm's Oldest Church
Step inside Storkyrkan, Stockholm's oldest church, and marvel at its medieval grandeur. Admire the magnificent St. George and the Dragon sculpture, explore the ornate chapels, and discover the rich history within its walls. Storkyrkan is a spiritual and architectural treasure that reflects the cultural heritage of Stockholm.
Kungsträdgården: Enjoy Nature in the Heart of the City
Escape the urban hustle and bustle in Kungsträdgården, a lush green park in the heart of Stockholm. Take a leisurely walk among the vibrant flowers and trees, relax on the sprawling lawns, or simply sit and people-watch. Kungsträdgården is a peaceful oasis where you can reconnect with nature and soak up the tranquil atmosphere.
You can also embark on a camping adventure in the picturesque outdoors. There are plenty of campsites in Stockholm that will help you discover hidden lakes, tranquil forests, and breathtaking landscapes just a short distance from the city. Experience the serenity and beauty of nature while creating unforgettable memories under the starry Swedish skies!
Discover the Best Activities in Stockholm!
Remember, a camper rental in Sweden allows you to combine the convenience of urban attractions with the freedom to explore the surrounding natural beauty at your own pace. Spend the day discovering the vibrant city life and retreat to the tranquility of a campsite in the evening. The best of both worlds!
Stockholm offers a wide range of exciting activities and attractions for visitors to enjoy. From historical landmarks to cultural institutions, beautiful parks, and vibrant markets, there is something for everyone in this captivating city.
Plan your visit to Stockholm and embark on an unforgettable journey filled with memorable experiences, delicious cuisine, and the warm hospitality of the Swedish people.